I am offering Sliding Scale Silent Energy Medicine Sessions & Plant Medicine Consultations to support folks during this COVID-19 adjustment phase. Please check my booking page for more info.
Rates for Remote Biofield Tuning Services (USD):
1 hr- $100
90 mn- $135
Discounted Package Rates for Remote Biofield Tuning Services (USD):
3-Pack (60mn Sessions) -$285
3-Pack (90mn Sessions) -$375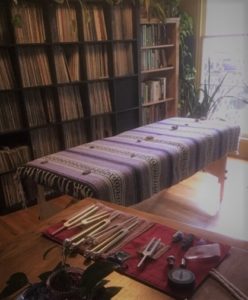 Pictured above is my remote treatment space. This is where you will receive your distance session. 
If you have previously purchased a package with me in-person, and have unused visits, you can use these to schedule a remote appointment too. You can also gift remote visits to friends and loved ones who might be in need of extra support right now.
Most remote sessions are done on telephone for those located in the US and WhatsApp using the voice feature for those outside of the US. The video feature is NOT used during remote Biofield Tuning sessions.  If you have questions or wish to book an appointment use the contact info below.